WHERE CAN YOU FIND US?
FAIRMONT CHATEAU - Lake Louise
Located in the beautiful Fairmont Chateau is The Guides Pantry, where you can now find a variety of Mountain Life Apparel. 
Inspired by our Rocky Mountain Guide Heritage, The Guides Pantry offers an elevated experience to grab and go on your Lake Louise expeditions.
Offering an assortment of freshly made sandwiches, decadent pastries, seasonal salads and gourmet snacks, your take out selections have been sustainably crafted to take on your next adventure! Indulge in our premium assortment of freshly brewed specialty coffees, signature tea selection and refreshing cold beverages. Treat yourself to our pantry provisions, as you explore our world class backyard.
111 Lake Louise Drive, Lake Louise - Alberta T0L 1E0, Canada
MOUNTAIN MERCANTILE - Canmore
The Mountain Mercantile story is a simple one. We love each other and we love what we do.
Our passion is combing Canada for the fun, the unique, and the funky... which is why you never really know what you'll find in the store from one day to the next!

Yet as much as we love unearthing the next great treasure for our customers, it's also really important for us to support this amazing country of ours and the breathtaking landscape we call home.

That's why we fill the shelves of Mountain Mercantile with hand-made products by Canadian artisans, many of which speak to the mountain landscape that defines us. Even the companies we deal with are small, Canadian-run businesses that source most of their products right here in Canada. And if it's not local and not hand-made, you can bet your boots the company gives back in a big way!

We hope you find that the store reflects our passion. 
104-737 Main Street, Canmore
(403) 678-6116
THE STORE UPSTAIRS - Airdrie
The Store Upstairs is a boutique shop in Airdrie that has been providing top-quality gifts, toys, jewellery, purses and many other accessories for over 25 years. We stay on top of the latest trends in style, decor, games and gifts, always updating our selection and providing our customers with high-quality products from top-tier brands. At The Store Upstairs, we always aim to bring you amazing items that will make the perfect gift for your loved ones. Our team of friendly and approachable customer liaisons will help you find the right present for anyone. Visit us in-store today!
(403) 948-0010
#101, 209 Centre Ave SW Airdrie, AB T4B 3L8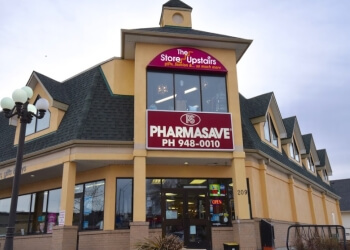 MAIN STREET MARKET & MORE  - Okotoks 
Main Street Market & More is a destination shop located in the Okotoks historic Downtown River District. The store comprises over 130 Alberta businesses coming together to provide the ultimate shopping experience. The Market is proud to be a community pillar for the "shop local" movement.
Here at Main Street Market and More, you'll find boutique shopping with handmade products ranging from art, clothing, all natural soaps and personal care products, shabby chic re-purposed furniture, handcrafted foods, snacks, treasures and everything in-between. This co-operative effort and "meeting of creative minds" really makes this store "The place to be".
8 McRae St. Okotoks, Alberta, Canada T1S1A6
403-982-3000 
KASLO ADVENTURE CENTRE - Kaslo
No matter what your adventure, we've got you covered! We are an awesome little adventure store in the magical town of Kaslo, BC.
Open year round, we carry an extensive line of outdoor adventure clothing, gear, and accessories for every season. Spring, Summer, Fall we carry all you'll need for ; Hiking, biking, camping, paddling, swimming or just hanging out ...
In the winter we rent and sell snowshoe kits, Nordic skis packages, winter ski apparel to keep you toasty and accessories for your ALL your snowbound adventures.
344 Front Street - Kaslo, BC
(250) 353-1925
NATIONALPARK CHALETS - Austria
The National Park Chalets is a hotel-chalet village with 63 detached chalets. These 63 chalets can be rented for a carefree holiday in a beautiful location in the Pinzgau region. The National Park Chalets has a hotel format in which you as a guest can rent a detached chalet with a fantastic view and at the same time enjoy the convenience of a hotel service.
In addition to luxury chalets, our facility offers you a lot more - a natural swimming pond, a children's playground, a chapel and several multifunctional rooms. By the way, yoga courses are organized here, but your seminars and conferences can also take place here. The sports shop, fitness room and child care center are on the same floor.
You have the opportunity to get married in our chalet village! The national park chalets have their own chapel, reception area, restaurant and of course sleeping facilities. In this way you can seal your love with us with one of the highest mountains in Austria in the background, very special!
rezeption@nationalpark-chalets.com
Vogelsang 304, A-5741 Neukirchen am Großvenediger
+43 6565 21921